Veterans Memorial Park
"To Honor and Memorialize Those Individuals Who Have Served
in the Uniform Services of the United States of America"
---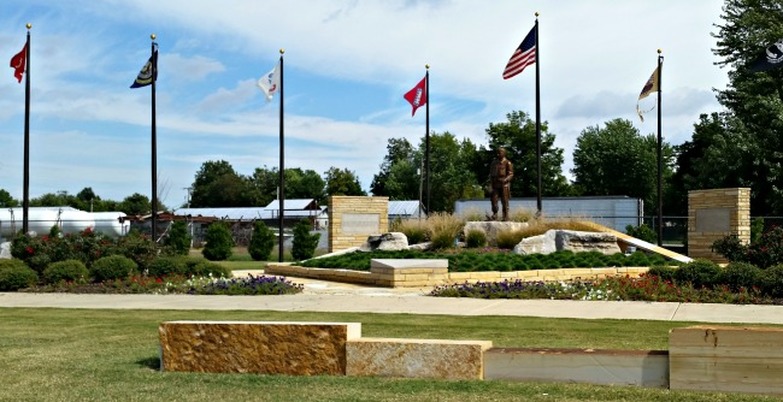 Veterans Memorial Park of Rector
In The Footsteps of Heroes
One of the first sights you will see when you turn onto Main Street from Highway 49 is the Veterans Memorial Park of Rector. A life-size bronzed statue of a World War II soldier stands at rest atop a native Arkansas boulder in the center. Created by Artist/Sculptor Gary Alum, the soldier is a stunning tribute to every man and woman who has served or is serving in any branch of the United States Armed Service.
In back of him, presiding over the park flies the flag of the United States of American and in an arc further back flies the Arkansas flag, the Rector flag and the flags of each branch of the U.S. Armed Forces, Army, Navy, Marines, Air Force and Coast Guard. You will also see the POW/MIA flag included in the array.
Wide walkways and beautifully maintained landscaping present a welcoming invitation to stroll through the grounds and visit the memorial granite pavers that line the walkways honoring local men and women who have served. The visitor center and park headquarters, formerly the old jail/water office sets at the north end of the park. A founders' wall stands on either side of the statue to recognize those individuals and organizations who made substantial contributions to the development of the Veterans Memorial Park.
Dedicated in 2011 the park is the product of a collaborative effort of the Veterans Memorial Park Association and the City of Rector Downtown Central, Inc. The land for the park was given to the City of Rector Downtown Central by Mrs. Pauline Crockett, Sherland and Barbara Hamilton, George Jernigan and Robert Jernigan.
Ongoing support for the park is provided by the Veterans Memorial Park Association in partnership with the City of Rector Downtown Central, a Main Street Arkansas program of the Department of Arkansas Heritage.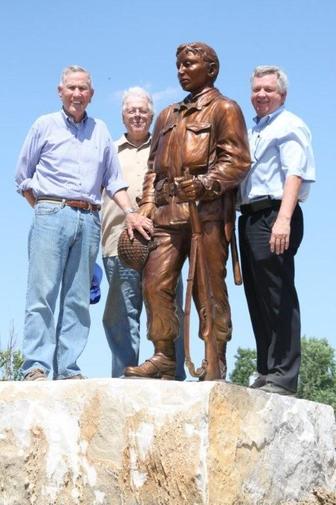 Visitor Center
The Building that was originally the old Rector Jail House and Water Office has been converted to a welcoming Visitor Center at the far end of the Veterans Memorial Park. It is often used for historical presentations and can be rented for small functions such as book signings.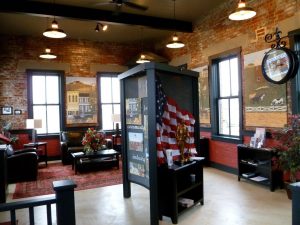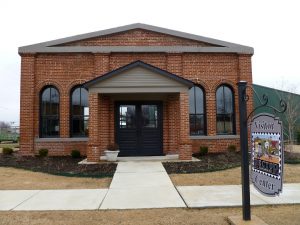 If you would like to order a granite paver to commemorate a veteran, you may do so at the Rector Water Department office at 409 South Stewart St. Or copy the form on the next page and send to Veterans Memorial Park Commemorative Paver Program, 409 South Stewart St., Rector, AR 72461. Prices are listed in the lower left hand corner. See Order Form.​