Rector Saddle Club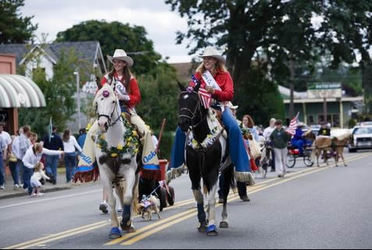 The Rector Saddle Club has been in existence since the 1960s.The club originally was host to some of the AQHA and Northeast Arkansas Best Horse Shows.
The Saddle Club is now enjoyed by local residents who practice, show and enjoy visiting with other equestrians.
To kick off the year, the club has a chili supper, awards banquet and membership drive. The club has an average of seven horse shows a year o the third Saturday of each month. The public is invited to attend all events and banquets.
The Saddle Club also sponsors the annual Labor Day Weekend Rodeo, which gathers quite a large crowd.
The club has held two demolition derbies as fund raisers
in the last two years with the help of the local FFA chapter.
The arena is not in its original location, but was moved to allow expansion of the local parks and recreation area. It is now located in the southwest corner of the parks and recreation area of Rector Memorial Park. The club sees the need for expansion of the facility in the future.
In 2007, the club, with the help of president Michael Hollis, vice president David Miller Jr., secretary Gail Miller and treasurer Jasa Haney-Hollis and voting members, were able to purchase a new concession stand which is being installed for the 2008 show series.
The 2008 Rector Saddle Club officers are president Wes Harmon, vice president Michael Dudley, secretary Dana Harmon, treasurer Jasa Haney-Hollis and reporter Jacinda Welch.
The Saturday night shows draw a large number of spectators, with a charge at the gate of $2, with children 6 and under free. The charge for each event is $2, with approximately 26 events in a regular show. One of the new events in 2007 was mounted shooting.
The past two years the club has been able to give away a new custom-engraved saddle to the high point all-around winner, with Carhart jackets given to the winners and reserves in each age division.
Through the efforts our members and local sponsors, the Rector Saddle Club has been working to improve shows and facilities each year.
Visit our FaceBook page for more information: Rector Saddle Club Members and Friends https://www.facebook.com/groups/167863343225958/