Rector Lions Club

The Rector Lions Club, while a relatively-new organization in the community, is proud of the record of service it already has established.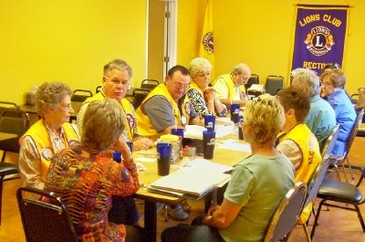 Sight conservation is the emphasis for Lions Clubs around the world and the local organization has accomplished much in that area, including providing glasses for the needy of the community. But the Rector Lions Club also has been available to lend a helping hand for numerous charitable efforts in this area. This is a tradition of service the club intends to continue in the years ahead.
The Rector Lions Club invites any residents of the community who enjoy good fellowship and helping others to consider becoming a member. Contact any existing member for more information. The club meets at noon each first and third Tuesday at Freddie's Mexican Restaurant on Highway 49 in Rector. In addition to promoting various service projects, the club enjoys a variety of interesting programs on its third Tuesday meetings.
The club gives monetary support to Lions World Services for the blind in Little Rock, Midsouth Sight and Hearing in Memphis, the Lions Leader Dog Program, the Camp for the Blind at Mt. Ida, buy eyeglasses for those in need, provide funds for Christmas gifts for Rector Head Start children and make a donation each year to the Rector after-prom party.
Curent officers of the club include Lark Sigsby, president; Janette Duncan, vice president; Rheba Scobey, secretary; Kay Huggins, treasurer; Steven Sigsby, tail twister.